Over 40 years ago, the very first Sunbury Antiques Market was held at Kempton Park Racecourse and thanks to the vision, dedication and enthusiasm of our founder the late Sue Cruttenden, we've gone from strength to strength. From modest beginnings, our family-run operation has evolved into the largest and longest running, twice-monthly market in the country and is rightfully recognised as one of Europe's premier antiques markets.
Over recent years, there had been a growing demand for Sunbury Antiques to present weekend markets to cater for those unable to attend the midweek events, so operations were expanded to include Sunday markets at Sandown Park Racecourse, 'Sandown Antiques Home & Interiors Fair' and 'Wimbledon Homes & Antiques Fair' at Raynes Park, London. We have also launched an annual Sunday-format market at Kempton Park.
The opening of a Sunday market at Sandown Park in 2018 was a logical step. A similar-style venue to Kempton Park, with fantastic transport links and it allowed us to offer traders the choice of both inside and outside stalls (including indoor furniture pitches) at equally attractive rates. Then in 2020, following on from the success of Sandown, we had an opportunity to launch another Sunday event, this time even closer to London and so 'Wimbledon Homes & Antiques Fair' was established. In 2022, as a natural extension to our existing weekday market, we added an annual Sunday format event at Kempton Park. All these 'new' events have proved to be extremely popular !
A favourite with celebrities and designers and whether you're a professional buyer or simply someone looking for that unique piece to adorn your home, we're confident you'll find something to suit. Described in The Economist magazine as ''A true rummagers paradise, the stallholders are an attraction in themselves, with more characters than you can shake an ormolu candlestick at." and with an increasing number of people now looking to shop more ethically, affordably and sustainably our fairs offer the eco-friendly, savvy shopper the perfect place to find their zen.
Today, Sunbury Antiques is still very much the family business that Sue started, but now with her son Edward and his wife Jennie at the helm. They drive the business forward with passion, professionalism and with a very much 'hands on' approach which continues to keep Sunbury Antiques at the forefront of the antiques market world.
Throughout their over forty-year history, our markets and fairs have generated much national and international interest and this ongoing positive media coverage not only adds to our unparalleled reputation but also continues to underline Sunbury Antiques' status as, many already believe us to be, the UK's finest Antiques markets.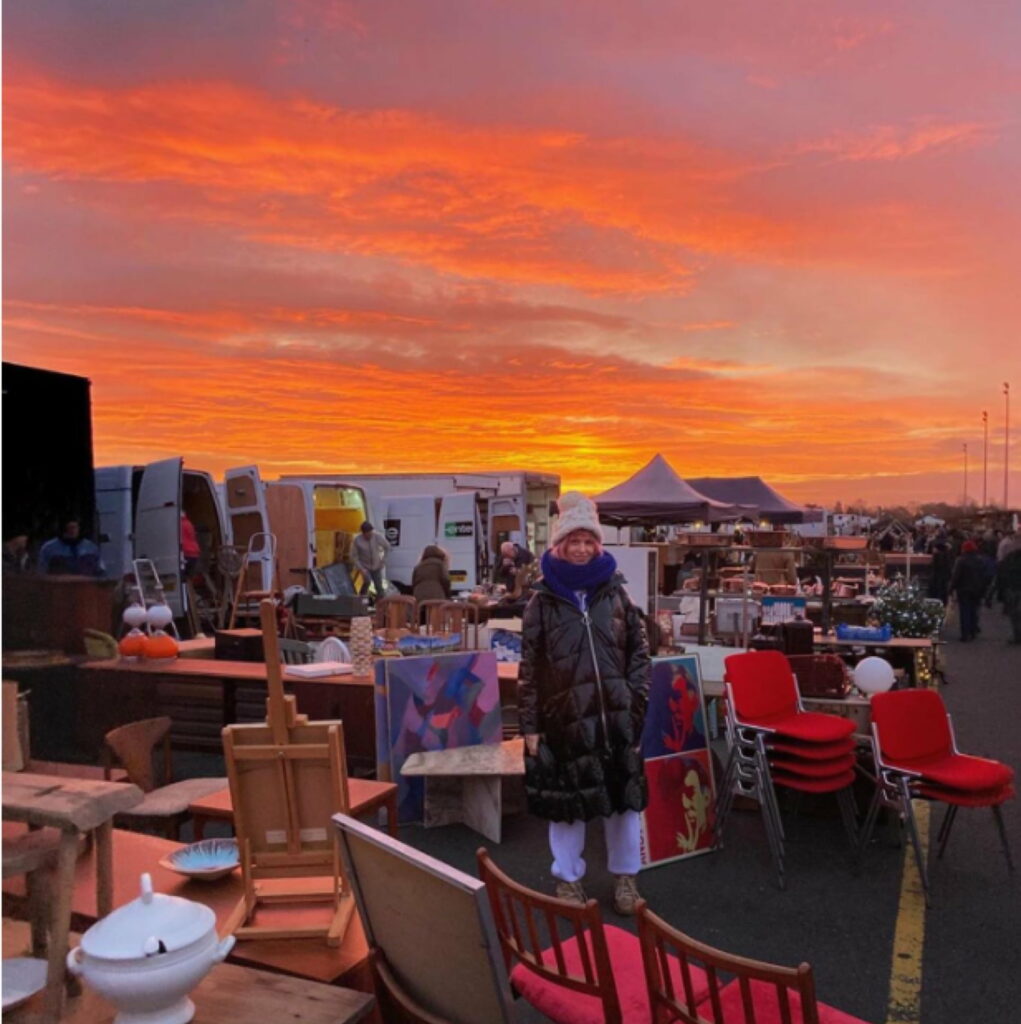 So, in September 1979 with £100 in her pocket – which she borrowed from Gran, Mum approached the management of Kempton Park Racecourse.

Sunbury Antiques now commands top billing among Europe's largest and finest antiques markets; an incredible achievement.

Edward Cruttenden