Paul Travers from Aldridge Glass Ltd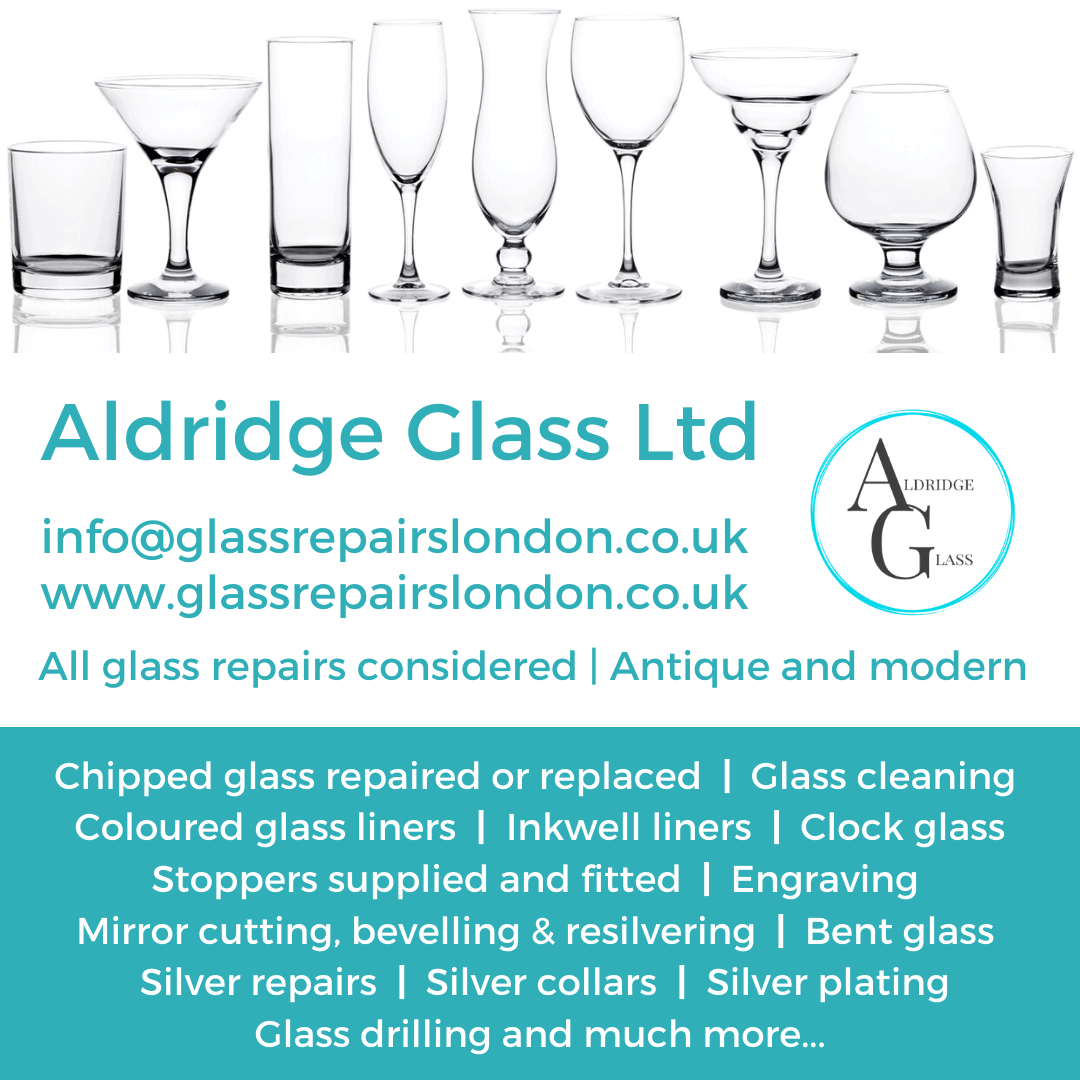 Aldridge Glass mainly do restoration however they do sell some pieces.  Paul has been coming to Sunbury Antiques for about 15 years. This is what he has to say…
Q- How long have you been trading at Sunbury Antiques Market?
A- We have been trading and restoring glassware at Sunbury Antiques Market for approximately 15 years (where has the time gone!).
Q- What did you previously do before starting in the antique trade?
A- I started working for Aldridge Glass when I left school more than 25 years ago and was taught the basic skills by Laurie Aldridge before developing my own techniques for all types of glass restoration. I took over the business in 2006 and have since built it into what it is today.
Q- What is your most memorable moment at Kempton (maybe something funny)? 
A-  Since securing an inside stand in the Gold Room, I have to say being surrounded by the lovely traders in our section, who have been with us from the start. They are warm, welcoming and we all look out for each other. Friendly banter helps with the very early start!
Q- What's the best find you've ever had here?
A- The best find is the customers we have serviced over the years. We have a large, loyal following and are grateful for their continued support.
Q- What significant changes have you seen in the trade?
A- The trade seems to be forever changing with trends and taste. The trade are always searching for fresh goods, normally the more unusual the better. The public always seem to like our excellent collection of silver topped decanters and scent bottles for gifts/collections.
Q- What's your style?
A- My style is jeans and a hoodie… All types of glass and silver is the serious answer, but I do have an addiction to scent bottles!
Q- Any key items currently for sale?
A- A few pieces (see images). We are currently still offering restoration work via post/courier.
Q- What brings you back time and again?
8  The positive feedback from all the customers means that I must be doing something right! I take great pride in my work and it's a pleasure to be given damaged items and restore them to their former glory.
Q- What is the one thing you cannot live without?
9 I'm surrounded by a great team, couldn't do this without them!
FB @GlassRepairsLondonAldridgeGlass
https://m.facebook.com/GlassRepairsLondonAldridgeGlass/
Twitter @Aldridge_Glass
Insta @glassrepairslondon
Website www.glassrepairslondon.co.uk
Related Stories
Food & Travel – Europes Best Antiques Markets – August 23′
Over 50K Followers on Social Media ! July 2023
Sunbury & Sandown Antiques Market – Outside New ULEZ Expansion Zone