The sun is shining and it's time to meet our latest trader Henry Nicholls!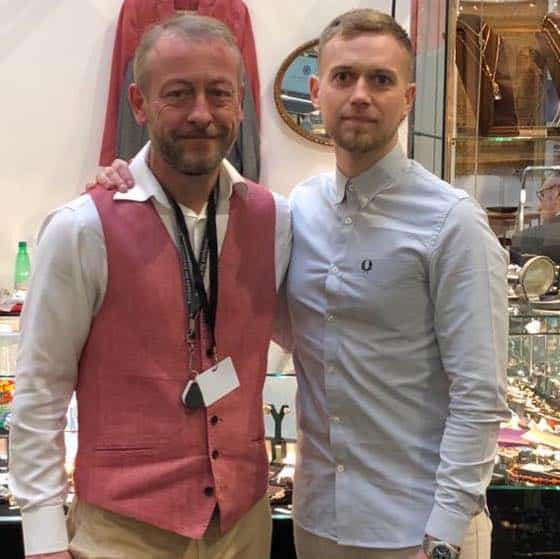 The sun is shining and it's time to meet our latest trader Henry Nicholls!
Q- How long have you been trading at Sunbury Antiques Market?
A- Well let's put it this way Ed, I remember you as a lad!! Certainly over 30 years.
Q- What did you previously do before starting in the antique trade?
A- I've never done anything else. I started dealing when I was a lad although I did take a year out in my 20's to be a drum roadie for a well known Brighton band
Q- What is your most memorable moment at Kempton or Sandown (maybe something funny)?
A- Turning up at 5am to the realisation that the fair was the following Tuesday! (3 week gap)
Q – What's the best find you've ever had here?
A- A Cartier diamond set brooch in the form of a dog that I bought amongst a box of costume jewellery from one of the outside vans
Q- What significant changes have you seen in the trade?
A- Dealers that buy across the board seem to be very few and far between. These days, buyers are now looking for specific objects and not necessarily things that will turn them a profit.
Q- What's your style?  
A- It depends what I buy from private houses each week. But I do love my jewellery and silver.
Q- Any key items currently for sale?
A- We have lots of lovely items for sale, so check out the website! One that springs to mind is a lovely Faberge enamel, diamond & pearl brooch.
Q- What brings you back time and again?
A- It's my favourite fair. The way it is organised. The people, the cameraderie and the cash!!
Q- What is the one thing you cannot live without?
A- My son Peter. He is my right arm and I'd be lost without him.
Facebook: HenryNichollsAntiques
Instagram: @henrynichollsantiques
Twitter: @henrypnicholls
Website: www.henrynichollsantiques.co.uk
Related Stories
Pre-Booked Pitch Prices to Remain the Same in 2024!
ATG Letters Page – Nov 2023
House & Garden – Nov 2023