Elizabeth & Peter, Clou Antiques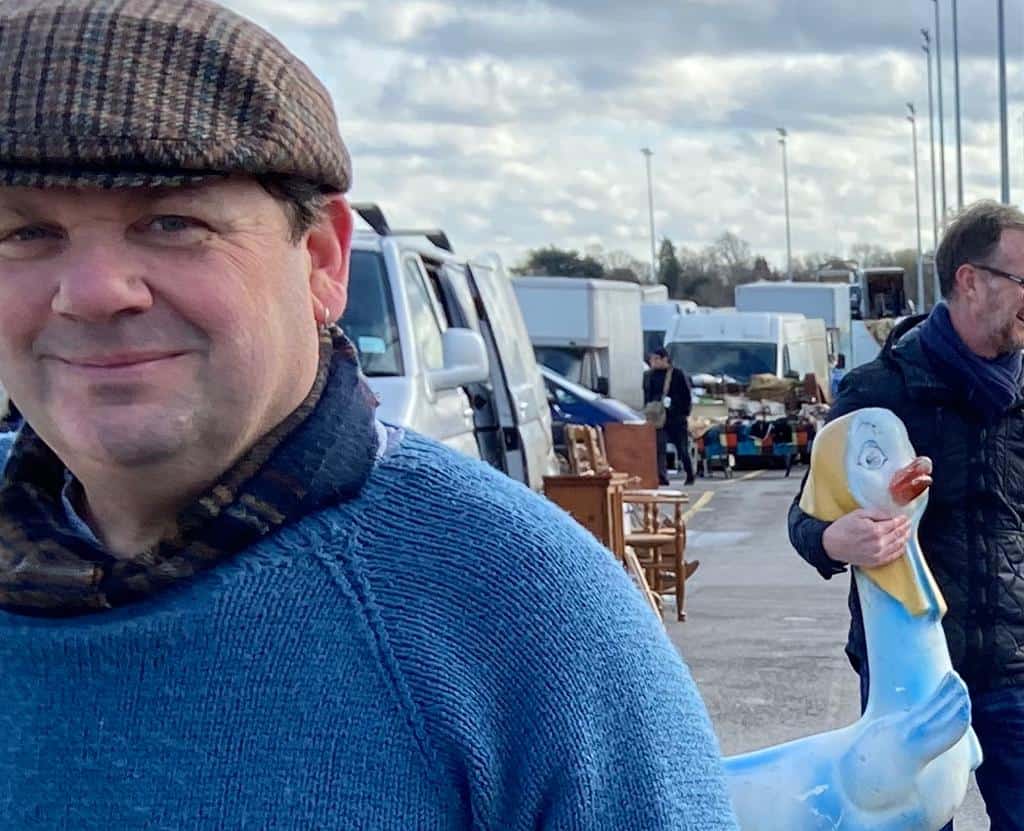 Elizabeth and Peter have been trading at Kempton for 8 years and love buying vintage and antique French decorative antiques.
Q- How long have you been trading at Sunbury Antiques Market?
A- We have been trading at Kempton for 8 years.
Q- What did you previously do before starting in the antique trade?
A- Previously I had a delicatessen and catering company.  I'm half French and we have a house in Normandy. The idea for buying vintage and antique French decorative and/ or useful objects and furniture grew quite organically- it is so great to go buying things we love, and to sell them- and go buying again! What's not to like?
Q- What is your style?
A- Our style is fairly eclectic, and we are lucky to have contact with French dealers who have a similar eye for the unusual and beautiful. As long as it's genuinely old, and in good condition for its age, we are happy. I have a particular fondness for kitchenalia and barware. My favourite look could be described as ´inter-war French bistro'
Q- What is your most memorable moment at Kempton (maybe something funny)? 
A- The most memorable Kemptons are usually the ones with the most extreme weather. Either frost or torrential rain! No matter what, we always turn up, it's on days like these where you can do very well…
Q- What significant changes have you seen in the trade?
A- Things are always changing and no Kempton is the same. Some dealers lament that 'things ain't what they used to be' which is true- there may not be easy money these days but if you stick to what you love, and keep working to source interesting, original and genuinely old things customers will keep coming back.
Q- What brings you back time and again?
A- We love Kempton for many reasons- it is run by lovely people who care about you and how you are doing, it is easy for us to get to, it's a half a days work and it's reliable! There are such a variety of potential customers, from antique dealers to prop buyers to private customers….and weirdly I love the different coloured tickets and get satisfaction from collecting them over the year! ……Most years I only miss one or two Kemptons.
Q- What's the best find you've ever had here?
A- Usually, I have my selling hat on at Kempton but occasionally will buy if something grabs my attention. My favourite thing was probably a giant basket full of really old maritime signalling flags- they were huge, some with repairs, and all with a faint whiff of engine oil, lovely.
Q- What is the one thing you cannot live without?
A- What can't I live without? That has to be my family, a good dinner and an excellent bottle of red!
Follow Elizabeth and Peter in Instagram:
@clou-antiques
@soho-vintage-pete
Related Stories
RAIN STOPS PLAY – SUNDAY 16TH APRIL
Wimbledon Homes & Antiques Fair 2023 Dates