Meet "The Old Wooden Lady"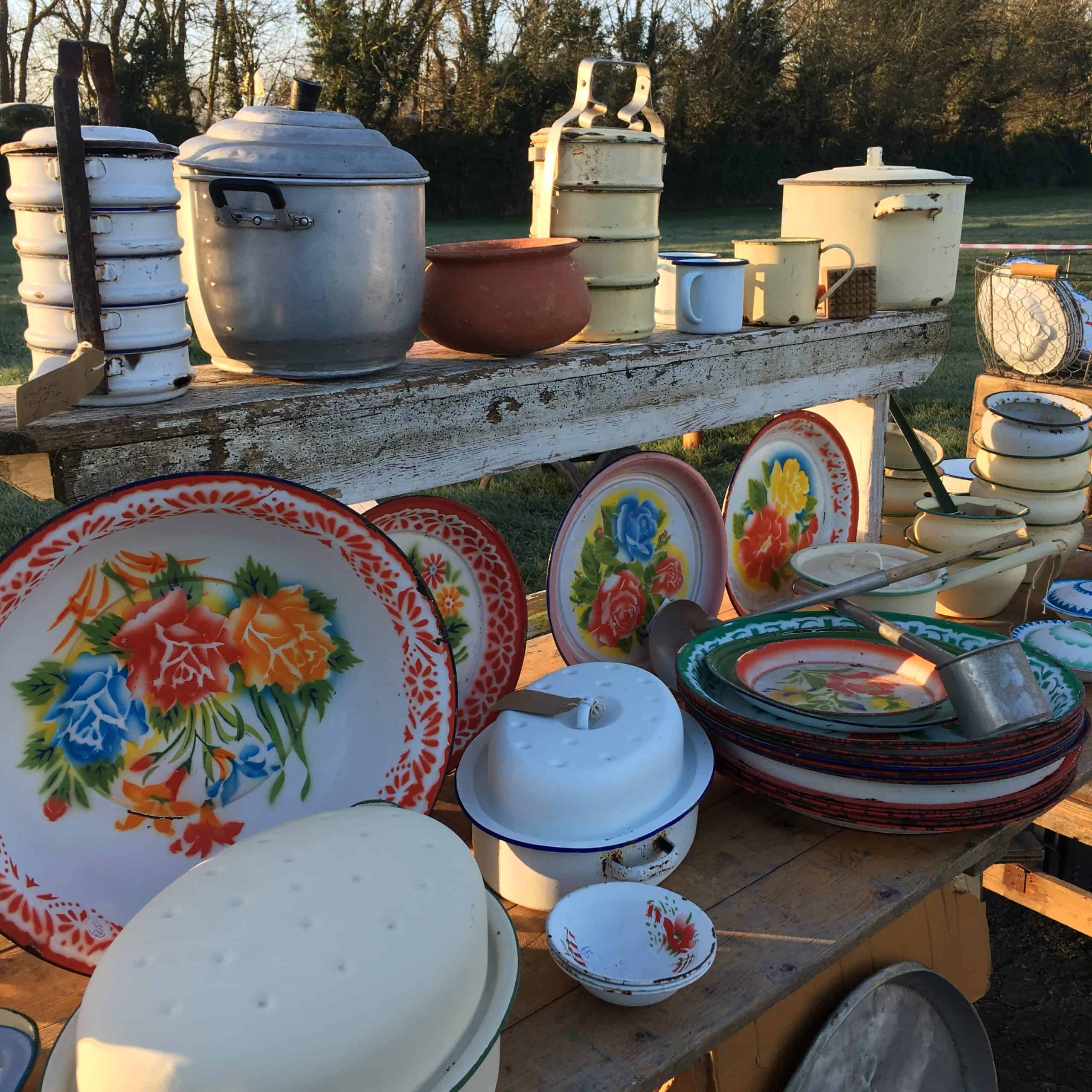 Today we meet The Old Wooden Lady!  Offering a an eclectic range of products from wooden furniture, old aluminium cookware and decorative crockery through to ethically sourced, hand-made and very colourful pocket pets.
Q- How long have you been trading at Sunbury Antiques Market?
A- So I started coming to Kempton 13 years ago and only missed one a year for years, sadly 18 months ago my mother finally became bonkers enough not to be able to live on her own even, with Carers , so she came to live with us. Sadly she can't be left at all and so we had to stop coming. More recently we found a lady who we could swap kindness with and she looked after my mother whilst we came to Kempton (what a joy) and we looked after her daughter whilst she worked. Perfect.
Our daughter who everybody calls 'DOttlington' was always with us from a few weeks old until she started school and she will be 10 in May.
Q- What brings you back time and again?
A- We have met lots of fantastic people through Kempton and of course have become great friends with Somerset Pete and his family.
Q- What is your most memorable moment at Kempton (maybe something funny)? 
A- I managed to burst my appendix on a Monday night before Kempton about 4 years ago but didn't realise what was happening, Pete unloaded and loaded back for me as I was doubled up. I managed to drive home very very slowly to Hereford and of course ended up in A&E and they operated that night!
Q- What's the best find you've ever had here?
A- My fav purchases, I have a small aluminium Easter egg mould with a smiley face on it, bought years ago from the couple with a fancy van that only come once or twice a year and are 1/2 dozen from the beginning on the racecourse side. Adorning my house are all the lovely potters' boards I have bought from ' is it Mark and Lucy' oh and two sets of old French skittles still in the house from Jo 'out of the attic'
Q- What is your style and do you have any key items currently for sale? 
A- I sell old wooden objects and furniture nearly always 'ripe as a pear'.  I also sell Aluminium cookware. old floral enamel, and of course all my 'pocket pets' that I am selling like mad at this time of year trying to make ends meet.
See more from The Old Wooden Lady here:
https://www.facebook.com/The-Old-Wooden-Lady-170441763039685/
https://www.instagram.com/theoldwoodenlady/
Related Stories
Food & Travel – Europes Best Antiques Markets – August 23′
Over 50K Followers on Social Media ! July 2023
Sunbury & Sandown Antiques Market – Outside New ULEZ Expansion Zone